Tandem Nano Ltd (TNL) is a University of Liverpool (UoL) start-up focused on the development of its proprietary SDN (Solid Drug Nanoparticle) technology platform which has the potential to transform the delivery of active compounds in industries as diverse as pharmaceuticals to agrochemicals.
Developed by a core team of scientists lead by Professor's Andrew Owen and Steve Rannard the SDN technology has already been shown to have strong commercial potential and the team is working with a number of major companies in a variety of application areas.
TNL secured seed funding from the UoL Enterprise fund in 2019 to begin operations and secure its first client contracts and build on its strong technology platform.

TNL has a twin strategy to utilise its SDN™ technology to develop its own pipeline of innovatively nanoformulated actives as well as working with clients that have proprietary chemicals that have low water solubility. TNL overcomes challenges with hydrophobic actives by making solid and suspended nanoparticles of actives and drugs to alter their bioavailability and improve utility.
The SDN™ nanoreformulation platform overcomes the challenges with hydrophobic actives by making solid and suspended nanoparticle formulations of actives and drugs to regulate and control their bioavailability.
The primary technological advantages to the SDN™ platform.
Significantly improved rate of dissolution.
Reductions in active concentration to achieve comparable/superior activity levels.
Reductions in dosing for non-pharma applications reducing cost and environmental impact.
Business Strategy
TNL has two areas of operation TnPharma (TNP) and Tn3P (TN3P) that focus on different business models that will drive growth.
TN3P to deliver service/contract and licensing revenue via multiple focus areas such as pharma, agrochemicals, nutraceuticals etc.
TNP to focus on a pipeline of its own proprietary API reformulation programmes.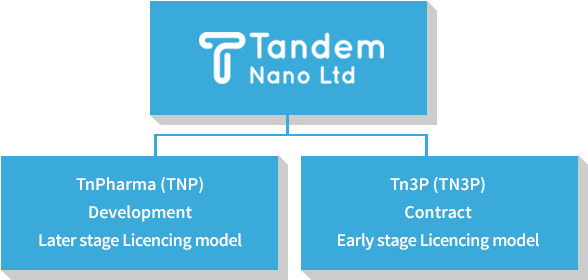 TNL's intellectual property is well established and comprises 19 patent families
The patent estate covers the identification, manufacture and composition of SDN nanoparticles.